"Kristen, you chose 'Quiet Confidence' for your company's name? Won't that seem counterintuitive to clients who need to take bold action?"
I used to believe that the loudest voice was the strongest, no matter how hollow its words. Maturity has since taught me that real strength is displayed when mastery meets modesty. In other words: quiet confidence.
QCC strives to inspire our partners' quiet confidence so that hard work feels easy.
We also guide our performance from a place of quiet confidence by:

Founder and Chief Communicator
My professional happiness comes from going down research rabbit holes; connecting with people from all walks of life; and writing, ideally with the cats under my feet and a latte within reach.

I graduated from Georgetown University with a Master of Professional Studies in Public Relations/Corporate Communications, and from NYU Stern with a Bachelor of Science in Finance and International Business, and a minor in the Arabic language. I am ProSci and ACMP-certified as of 2019.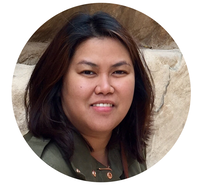 I graduated from the University of Santo Tomas in Manila, the Philippines, with a Bachelor in Fine Arts degree in 2001. Before moving to the UAE in 2007, I worked in various companies as a Graphic Designer in Manila for seven years.

​A passion for traveling and interest in world culture led me to move to the UAE, expand my career in the creative field, and gained valuable working experiences with colleagues of 14 nationalities.